Blog
When is it Time to Replace Your Forklift Tires?
The condition of your tires is important when it comes to maintaining your lift. Unlike a car, forklifts don't have a traditional suspension system, so your tires carry all of the weight of the equipment and whatever that equipment is carrying. So, it is important to know when it is time to replace your tires.
First of all, what causes tire wear?
This probably goes without saying, but how much you use the lift affects how often you need to replace your tires. If you are running a full shift (8 hours) five days a week, you will have to replace your tires more frequently than if you use your lift sparingly.
The other major factor concerning tire wear is the environment you run your lift in. Rough terrain will make your tires wear faster. The same can be said for concrete that is rough, cracked, or uneven.
Here are the signs that your tires need replaced: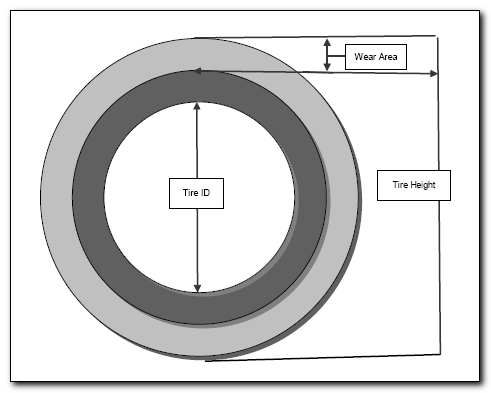 1. Many tires have a safety lone or "wear line" (above). The wear line is the main indicator that your tires need replaced. Once your tires have worn down to this line, it is time to replace them.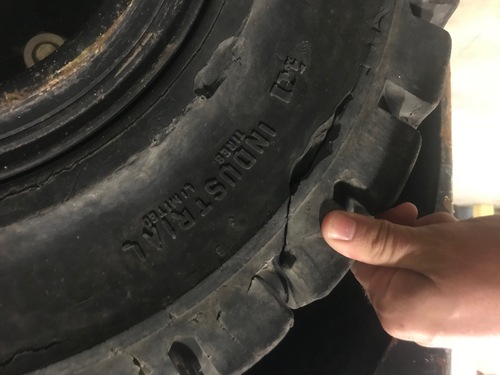 2. Another sign that it is time to replace your tires is tearing or cracking. As you can see in the example above, your tires look like they have been sliced. If you haven't hit your wear line, but your tires are tearing, they need replaced.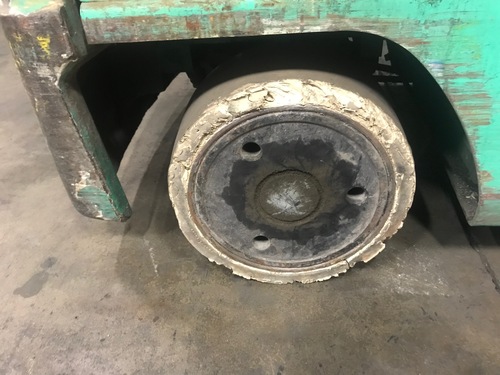 3. Unlike tearing, chunking occurs when whole pieces of your tires have been torn away. If chunking occurs, tires should be replaced immediately.
4. Flat spots might be harder to notice at first than tears or chunks. Instead of seeing flat spots, you'll likely notice that the wheel will "skip" or "thud" when rotating. This is one indication that you have a flat spot and it's time to change your tire.
Along with these signs, other issues such as uneven wear on each tire or bent rims should be checked for at the beginning and end of every shift. Beyond regular maintenance and keeping your equipment operating efficiently, tire replacement is a safety concern. Bad tires can lead to bad accidents.
While some maintenance can be done in shop, your forklift tires should always be handled by trained and certified professionals, this includes getting an opinion on whether or not they need replaced. Let our experienced team at Greyson Equipment help you.
6 Tips for Improving Warehouse Efficiency
There are a lot of factors to consider when improving warehouse efficiency. Below are 6 tips to help get you started.
1. Utilize your space. While expanding your warehouse is always an option, make sure that you are using your current space as efficiently as possible.
Minimize your aisle widths. This makes more room for product.
Look up. How well are you using your vertical space? Before deciding to expand out, consider whether or not you maxed all of the storage space you already have.
Consider how much product you need. While having a full facility is nice and does ensure that your customer has what they need as soon as they need it, do you need that product in-house year-round? Or, do you need more of that product in one part of the year versus another? Can you utilize that space in another way?
2. Review is important. Your processes are constantly evolving. You need to keep track and analyze productivity rates regularly. Keep records of how well your product moved within an allotted amount of time.
3. Keep your employees in the loop. Beyond updating your operators on new guidelines and procedures, circle back and ask them how the new system changes have affected workflow. They work your system every day, so their ground-floor experience is crucial to success.
4. Keep your facility neat and clean. This goes beyond cleaning up the big messes that occasionally happen and worrying about the everyday little tasks too. Leaving product in aisles, not regularly cleaning up debris, and not putting product where it needs to be can hinder workflow.
5. Keep it simple. Streamlining your supply chain and processes is important.
Know your truck schedule.When you don't know when trucks are coming in, loading and unloading can become congested. This slows down processes and creates unwanted downtime.
Consider assigning different shifts for shipping and receiving. By allowing each shift to focus on one task, you let your operators become as efficient as possible both individually and as a team.
6. Invest in quality equipment that best serves your needs. This one should go hand-in-hand with utilizing space. When deciding how to best set up your racking and storage, you should also consider what equipment will work best for your space (what takes up the least space and still makes operations smooth) and is most applicable for your needs (For example: if you're only lifting 3000lbs at most, do you need a 10,000lb capacity lift?).
There is a lot of thought that goes into making your warehouse as efficient as possible that can be made easier by asking a reliable source for help. When the time comes to consider what equipment will speed up your workflow, let our experienced sales team at Greyson Equipment answer any questions you have and get you off to a strong start. Just contact us here to get started.
---

3 Common Work-related Injuries and Tips for Prevention
Injury is common in the workplace. Sometimes, there is no helping the accidents that occur while on the clock. However, the three most common injuries are also those that can be prevented in most cases.
Slips, Trips, and Falls account for most work-related injuries. According to OSHA, 15% of accidental deaths occur this way, but there are some simple measures that can be taken to make employees safer.
Good Housekeeping is one of the biggest preventers of fall-related injuries


Make clean-up check-in and check-out lists for every shift
Implement standard emergency clean up guidelines for when spills happen

Reduce slippery and uneven surfaces:

Keep high traffic areas such as parking lots and sidewalks in good condition.
Be prepared for bad weather and the hazards that come with it such as icy pathways.
Use signs and other warnings that let employees know that certain surfaces can be slick.
Muscle Strains are responsible for 34% (OSHA) of lost workdays. These types of injuries occur in jobs where repetitive motions and heavy lifting are expected.
Break up repetitive motion. Making sure to get away from repetetive tasks and stretch or walk periodically throughout shifts helps reduce the probability of strains.

Practice safe lifting:

Bend at the knees and keep a straight back when lifting heavy objects from the floor.
Don't get in a hurry. Lift and move product at a steady pace.
Know the limit. If the product is too heavy, perform a team lift or use handling equipment that is specifically designed to help move heavy objects.
Falling objects are the third most common hazard and result in 9.4% (OSHA) of accidents at work.
Make safety a priority.

Set clear guidelines for working within areas where above-head product is moved regularly.
Implement area safety into all new orientation and continued training.

Clearly mark areas where falling objects could occur.
Always use proper safety gear when needed: goggles, hard hats, etc.
With 2018's National Safety Awareness month coming to a close, the team at Greyson Equipment wants to do our part to help you keep your facility safe year-round.
---

10 Forklift Tips to Keep Your Warehouse Safe
Forklift safety is one of the most common topics in the material handling industry—and for good reason. According to OSHA (Occupational Safety and Health Administration), there are roughly 85 deaths and 34,900 forklift-related injuries a year. 42% of fatalities are a result of operators tipping a vehicle. To help you make sure your operators don't become a statistic, here are 10 basics for forklift safety:
1. Train your operators to follow company and OSHA standards on any equipment they will be using in your facility.
2. Examine equipment at the beginning of every shift. Some facilities will provide a "beginning" and "end of" checklist for operators to run through to make sure that the equipment is in good condition and safe to operate.
3. Be aware of surroundings:
Watch out for pedestrians.
Always be aware of load and mast height. You don't want to get stuck on a door…or make a bigger door.
Be vigilant when operating your equipment near dock or ramp edges. These are two of the easier places to roll a lift.
4. Limit your speed. It's not that hard to make a forklift slide on smooth concrete and again, make a new door.
5. Always make sure the load you are carrying is stable and secure.
6. Don't overload your truck. While it might be able to move, overloading hinders the truck's turning and stopping capabilities. Overloading also increases the risk of losing the load.
7. The only rider on the truck should be the operator. This goes for raising others up into the air, too. DO NOT raise people into the air unless you have a secure, safe platform and are following regulations.
8. Unless operating an electric truck, avoid running your truck inside for extended periods of times. This is especially important if operating a diesel truck.
9. Park the truck so that it doesn't become a hazard. This means:
Always park a lift with the forks on the ground and tilted down.
Always set the brake when you are not on the lift.
If your truck is LP, turn off the tank.
10. Always check the truck at the end of the shift.
Forklift safety is important whether you've been driving them for years or are plopping into the seat for the first time. Hopefully, these tips have helped you get started or refresh your memory. Here at Greyson Equipment, we want your operators to be as safe as the trucks we help you put them on.
---

Different Trucks, Different Hours, Different Lifetimes
When it comes to knowing how much "life" your forklift has, the first question you will probably ask is "How many hours are on the truck?" While this seems like a simple question, there are some things you should understand when asking it.
First, what kind of truck are you getting the hours for?
For internal combustion (IC) forklifts, the measurement is pretty straight-forward. The meters on these trucks track engine hours. This means that when the engine of your lift is running, whether idling or in motion, the meter is running every second that the machine is switched to "on."
However, electric trucks can be a bit more complicated. When you first switch on an electric truck, it will give you three readings: Key hours, hydraulic hours, and traction hours.
Key hours are tracked from the moment the key is in the "on" position to when it is switched off again. Essentially, this reading is the equivalent of engine hours on an IC forklift.
Hydraulic hours measure the time the hydraulics have been in use on a truck.
Traction hours record the time the unit is moving in forward or reverse.
It might surprise you, but there is no standard on what meter a company or manufacturer uses to measure the life of an electric lift. So, when you go to look at an electric forklift, ask which reading the seller uses and how long you can expect the lift operate based on that number.
Second, what do low, middle, and high hours look like?
In general, a forklift is expected to maintain optimum operations for 10k to 20k hours, with electric forklifts usually reaching the upper end of the spectrum over IC trucks. Knowing what forklift manufacturers and sellers consider "low, middle, and high hours" will help you understand the age of your prospective truck.
Low: 0-5,000 hours
Medium: 5,000-9,000 hours
High: 9,000+
Third, what age of truck do you really need?
New and low hour trucks are nice, but is it a necessity for you? Consider how much use you need out of the truck before you jump into buying a forklift. Crucial questions:
How many days a week/month will you use the truck?
How many hours a day will you use it?
Small Operations: If you have two or three employees and you will only need to use your forklift for one or two hours a day, twice a week, your usage is pretty low. Investing in an older truck might be the way to go.
Big Operations: If you have multiple employees on 7+ hour shifts every day of the week, your usage is high. This is definitely a situation where the investment in a newer truck with a warranty will benefit you in the long run.
When it comes to understand the life of a forklift, and what you need out of that truck, these facts are just the basics. Our team at Greyson Equipment can help you answer any questions you have and set you up with the best investment for your operations. Just contact us here to get started.
---
5 Ways to Keep Your Forklift Operational
Forklifts are an integral part of any efficient warehouse. When they go down, production slows down. On top of the cost of repairs, the cost of inefficiency can also put a dent in profit. While major problems are best left to the professionals, regular maintenance can help keep your truck operating at its best.
Change oil and check fluids. Regular oil changes increase fuel efficiency and avoid combustion problems. Like a car, the oil in a truck should be changed every three months (This can vary based on how much you run the lift, but it never hurts to do a routine check.) Aside from oil, checking other fluid levels (fuel, hydraulics, anti-freeze) will ensure that your lift stays operational and doesn't overheat or freeze.
Invest in quality parts. Parts is one of the easiest places to cut costs. However, a cheap part won't necessarily last as long as a more expensive, more recognized part. Buying the OEM part may cost you in the beginning, but buying three of the same after-market part in a year will cost you more in the long run. Little parts help the big machine work. Little investments help save big money.
Keep tires in good shape. Tires should be checked regularly. Running tires that are chunking, tearing, or have flat spots is a safety hazard. It also affects the fuel efficiency of a truck and can lead to other equipment damage. If there is any chunking, tearing, or flat spots on your tires, or you've reached the wear line, it's time to replace them.
Keep your lift well lubricated. Forklifts have a lot of moving parts. To keep issues from friction from rising, oil and grease your lift where it needs it. Following the lubrication chart in your lift's manual helps you be certain you are hitting all of the necessary points. If you are hearing squeaking or grinding, something needs greased.
Treat the small issues. Prevent the big issues. Sometimes it's easy to let a small issue with a lift go if it still performs. However, small problems can lead to other small problems that eventually lead to bigger issues. Being proactive about preventative measures such as keeping oil and hydraulic lines clear of sediment helps prolong the life of your lift.
Just watching out for wear and tear from everyday use can help you keep your truck running and operations smooth. Clean, maintained material handling equipment is what our sales team at Greyson Equipment specializes in. If you're looking for a quality piece of used equipment, start by contacting us here.
---
Picking up Productivity: 4 Beneficial Attachments for your Forklift
Attachments are an important part of any truck. What do you need the truck to do? What product are you handling? How durable is your product? Are you limited on space? These are all dilemmas that attachments help solve. Below are four common attachments that increase efficiency in the warehouse and save companies cash and time.
1. Sideshifters are one of the most common attachments. So common, in fact, that it's kind of hard to believe that they aren't standard on every lift. As the name suggests, this attachment lets you shift your forks from side-to-side. This makes it easier to make minor adjustments when picking up and setting down loads.
Benefits
Increased maneuverability that allows for more accurate fork function.
Reduced Damage to products and equipment.
Increased productivity due to faster loading and unloading times.
Improved space usage by placing product closer together.
2. Fork positioners are another really common attachment.This attachment allows your tines to be moved closer or farther away from each other hydraulically. This makes work more efficient.
Benefits
Increased productivity by eliminating the need to climb on and off the truck.
Reduced damage by allowing more precise maneuverability.
Improved health and longevity of your employees by reducing manual work.
3. Carton clamps are unique in that they are used primarily for large, rectangular or square loads that don't require pallets (appliances, beverage products, etc.).
Benefits
Reduced pallets costs including repairs.
Reduced shipping costs due to reduced shipping weight.
Increased storage space including the space for unused pallets.
4. Paper roll clamps are made specifically for the paper industry. They offer more control when your product is a little more "crushable" than others.
Benefits
Reduced roll crushing with automatic pressure control.
Varying grip pads that suit different paper types.
Increased handling.
These four are just the tip of the attachments. There are a myriad of combinations and choices for attachments, including integral carriages, push/pulls, rotators, multiple load handlers, clamps, layer pickers, and more for you to decide what fits your needs most.
Looking for an attachment? Our sales team at Greyson Equipment can help you! Contact us here to get started.
5 Tips for Buying a Used Forklift
While a brand new, polished piece of equipment is tempting, do you need it? A new truck can come with a hefty price tag. If you aren't going to run the truck constantly, a used piece of equipment could be the way to go. With these tips to help you shop smart, you can get a quality piece of equipment that won't break your budget.
5 Tips for Buying a Used Forklift:
1. A price that's too good to be true probably is too good to be true. If the price on a truck seems unusually low, take the time to do some research. Look for other sellers with the same make, model, and similar specs to see what the truck is going for on average. By cross referencing, you can decide if the price is the real deal, or if you need to ask the seller more questions about the possible issues the equipment has.
2. You need more than just a pretty paint job. A good-looking truck is always a plus, but scuff marks don't matter when it comes to the heavy lifting. If possible, inspect the truck in person. What is happening under the hood? A good-running truck is what you want.
3. Be specific about getting the specs. Getting all of the information you can about your prospective lift ensures that you get what you need. Here are the basics:
- What is the capacity of the equipment?
- What are the fully-lowered and fully-raised mast heights?
- What are the dimensions of the truck itself?
- Does it come with attachments or are they sold separately?
Asking questions like these and knowing the ins-and-outs of the truck will help you decide if it really fits your needs.

4. Do your hour and history homework. High hours on a forklift are the equivalent to high miles on a car—the higher the hours the more work the lift has put in. Just like a car, hour meters can be reset. Knowing the serial number, the year, and the model can help you determine about what the hours on the truck should be. Don't discount the truck's history. When the hours on a truck seem skeptically low, ask for a summary of where and when the truck was run. Some trucks are abused in their lifetimes; others are used sparingly and well taken care of.
5. Get to know your seller. There are more sellers in the used forklift business than just dealers. Knowing who you are buying your truck from will prepare you for dealing and help you create your own expectations.
- Dealers sell new and used equipment. They will know the history of the truck you are looking at because it more than likely was their truck to begin with. It could be a trade from another customer who updated their model or a retired truck from their rental fleet.
- Wholesale companies deal in used equipment exclusively. They often buy retired rental equipment, inspect it, fix any serious issues, and then sell them "as-is." While you more than likely won't have a spiffy paint job, you will know what—if anything—is wrong with the truck up front. A reputable wholesaler will give this information willingly.
- Brokers buy used equipment from wholesale companies. However, this doesn't mean that the broker has seen the lifts they are selling to you. When choosing to deal with a broker, consider the location of the broker in relation to the equipment you are going to purchase from them. A broker that buys from a local wholesaler is more likely to have seen their product than one who is five states away. In some ways, the distance can create a game of "forklift telephone."
Now that you have some tips on buying used equipment, let our experienced sales team at Greyson Equipment answer any questions you have during your truck search and purchase. Just contact us here to get started.
---
---

3 Need-to-Knows for 1st Time Forklift Buyers
Your product is moving so fast that you can't keep up. You've noticed that what was once a small outbuilding of 8 to 10 pallets has grown in a full-blown warehouse. Solution? You need a forklift, but where do you start?
Before you decide to go out and look for a lift, make sure that you consider 3 things: your facility, your product, and your environment.
YOUR FACILITY. If a buyer doesn't take the time to know the measurements of their facility, they might find that their new truck isn't the right fit. Make sure you have measurements for the following:
Door height and width. Often, we are too busy thinking about how to operate the lift within the confines of the building and not thinking about getting the lift in and out of it. Knowing the width and height of your doors will ensure that when your truck arrives, it can go where it needs to. This includes knowing the standard size of freight trucks you might be loading.
Rack height. This one can be a little tricky. If you've put in new racking and you know that new racking stands 188" at the top shelf, you might be tempted to buy a lift that has a 188" fully-raised mast. Remember, your product is sitting on top of that 188 inches, so you want a lift that can go beyond your tallest racking.
Aisle width. Knowing your aisle width will help you determine what kind of truck you need. If you have 12-foot aisles, you may get the most use out of a 4-wheel, sit-down forklift. But, if your aisles are narrower than 12 feet, you might consider another option such as a reach truck or order picker.
YOUR MATERIAL. The second need-to-know when deciding what kind of lift to purchase is your needs when it comes to the heavy lifting. Asking yourself the following questions can help you determine the specs of the lift you need.
What is the heaviest load you have in your warehouse? Knowing how much your product weighs helps you determine what capacity your truck needs to be able to handle.
What are the dimensions of the material you'll be handling? When you know the dimensions (width, length, height) of your product, you can choose a lift that will securely handle any product in your warehouse.
How often will you be using the truck? Will you be running this equipment for full shifts? Or, do you only intend to use it a few hours a day or once or twice a week? This question helps you determine which option is most cost effective in the long run.
YOUR ENVIRONMENT. Lastly, you need to consider where you and your equipment will be working. Are you going to be inside all of the time? Primarily outside? Is your workload split between the two? The environment you will be running your equipment in is a large factor in deciding what fuel and tire you want your lift to use.
Indoor. When running equipment indoors, LP (liquid propane) and electric trucks are most common. Electric trucks are emission-free and can handle tighter spaces than most LP trucks. Beyond fuel type, tires are an important consideration. For indoor use, consider cushion tires. They work best on smooth surfaces and help with handling in smaller spaces because of their smaller turn radius.
Outdoor. If you are going to run your lift outside, you will more likely want a truck that runs on LP, compressed natural gas, or diesel. Again, tire consideration is a big factor here. Pneumatic tires are recommended for outdoor use. They are more versatile than cushion tires because they grip uneven surfaces and aren't hindered in most weather conditions.
50/50 Split. In an indoor/outdoor warehouse, choose the more versatile tire. Pneumatics are always preferred if you know you will be running in and out. The bigger consideration in this case is your fuel type. Liquid propane is preferred, as diesel equipment should never be run indoors for an extended period of time.

**A NOTE ON TIRES: When purchasing a lift, remember that cushion tires can't be replaced with pneumatic tires later. Tires are specific to the truck.
Purchasing the best lift for your facility can be complicated. There are different factors that come into play for every owner. This article is just to get you started. You're sure to have more questions.
Our experienced sales team at Greyson Equipment can help you through every step of your truck search and purchase. Just contact us here to get started.